Because we always forget to post pics. XD Also, you learn why I am not allowed to be a paparazzi on Saturday..



Highlights
-Star Trek Uno @____@ We went through a deck like 6-7 times while watching Doom.
-We watched-- Bourne Supremacy (Karl as the sexiest Russian assassin evar), The Irrefutable Truth About Demons (ouch :<), The Price of Milk (WTF Amazon? If by 'charming movie' you mean 'emotionally masochistic because of what that woman does to our bb Karl.. the ass shot in the milk totally makes it worth it, though), Doom (pouty bedroom eyes the ENTIRE movie), and Pathfinder (pretty movie, Karl in skimpy clothes.. yum!).
-All the food was delish! I'm still full!




I am such a dork and made signs... :( I work for the govm't, so when I get the chance to be creative, especially on Karl night.. damnit, I will.



I had to take a picture of my superbly decorated kitchen cabinets; a memory from our first meetup that I haven't taken down because it's so goddamn GQ and beautiful! :) :) My brother cracked up when he walked in and saw it. I feel like a 12 year old girl again, but I'll probably keep it up and add to it. >_>



Moar! (zoom in)



My Bones figures watch over the Afghan Biscuits. :) I googled New Zealand recipes.. had to try SOMETHING 'traditional' for our favorite kiwi. It's pretty much like.. cornflakes, cocoa powder, flour, sugar, and butter. With chocolate icing and almond flakes on top. I never bake, so I'm happy they were edible!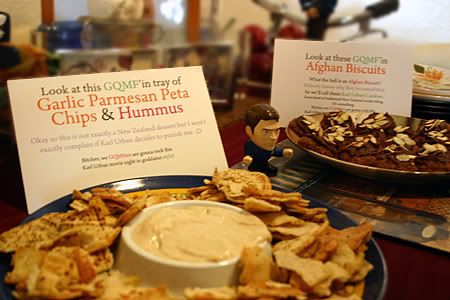 Yes, I dorked out and made signs for these. Shhh.



Why I am banned from being a pap. :< (blurry, sorry) Hi,
wyntreaurora!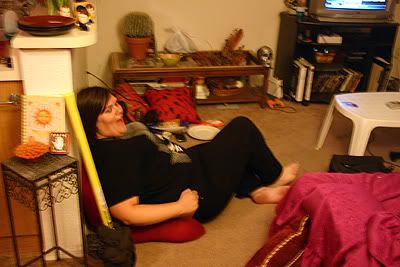 Why I am banned from being a pap. :< Hi,
kittehkat!

ALSO
-
wyntreaurora is unofficially our Uhura now. XD Thanks for not only bringing Karl's two best movies (TPOM and TITAD), but also for scouring IMDB and her pc for info during the movie night. :3
-
kittehkat is unofficially our.. (I dunno? Scotty? D:) kicks ass for bringing over the GQMF'in gummies, Star Trek Uno, Technical Manual, snacks.. everything! You are a goddess!
-... I apologize for the messy apartment. ;(


Thank you all for a great night! :) Don't forget that we're going to catch District 9 on Thursday in Avondale, if you wanna join! AND we're having the epic walking post mission on Saturday. :3